Meet our new PO's | Round 2
During our first ever #BasicResearch Chatter hour, we introduced you to some of the program officers who joined AFOSR this year!
Let's do a quick recap first, #BasicResearch Chatter is an opportunity for us to host chats about basic research, grants, and doing business with AFOSR during a live Twitter event. These are held once a month, usually on the last Tuesday of the month.
Our chat this month introduced a slew of new PO's, so many in fact, that we've created a mini-series so that you're not inundated with all of their names and faces. We're going to complete the list of PO's that we introduced in our live Twitter feed.
We're thrilled to welcome AFOSR Program Officers (POs) Dr. Warren Adams who manages our Optimization and Discrete Mathematics program, and Dr. Jiwei Lu who manages our Condensed Matter Physics program.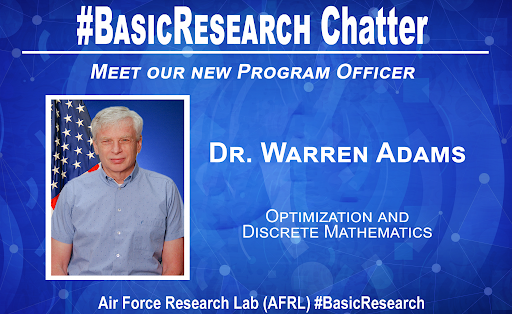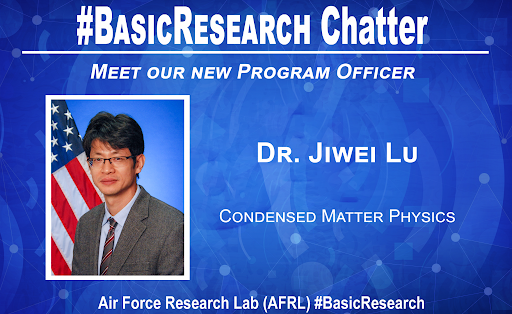 We're thrilled to welcome AFOSR PO Dr. Todd Rushing from our Asian Office of Aerospace Research and Development (AOARD) who manages our Materials Science and Chemistry program. We asked Dr. Rushing what his goals for the portfolio are and he responded with, "right now it is a mix of computational studies and new spectroscopic techniques across a variety of materials. I would like to balance this by adding some projects that aim for new materials discovery."
He continued with, " I'm looking forward to interacting with potential PI's.  Please send a short paragraph explaining your proposed research.  If the topic is a good fit the portfolio, I'll ask for a white paper to evaluate. I welcome emails."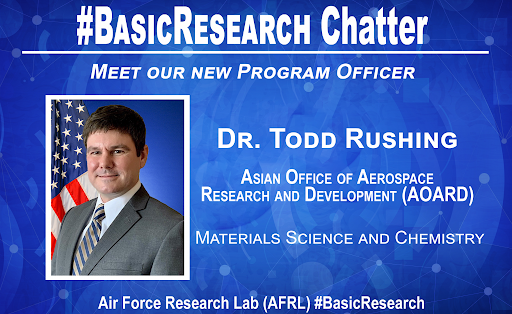 Below are some resources when looking for funding opportunities:
For more information on AFOSR active research areas of interest visit our general Broad Agency Announcement (BAA) FA9550-19-S-0003— on Grants.gov at https://www.grants.gov/web/grants/view-opportunity.html?oppId=314753.
Here's a video on how to submit a proposal on Grants.gov 
AFOSR experts foster and fund research within AFRL, universities, and industry laboratories to ensure the transition of research results to support Air Force needs. We solicit proposals through various BAAs as well as various other programs.
AFOSR Funding Opportunities
Where do I find current AFOSR opportunities and the closing dates for applications? Search Grants.gov: type AFOSR into the keyword field or using CFDA numbers 12.800, 12.630, and 12.910 or click the following link — AFOSR Grants on Grants.gov.