SECURE, COST EFFECTIVE ACCESS TO MULTIPLE INDEPENDENT LEVELS OF SECURITY
WHAT IS SECUREVIEW?
SecureView is the premier Cross-Domain Access Solution developed by the Air Force Research Laboratory (AFRL). SecureView provides users with the ability to access Multiple Independent Levels of Security (MILS) on a single workstation. When used with the Commercial Solutions for Classified (CSfC), SecureView provides secure remote access to classified networks, enabling telework from home or on the road.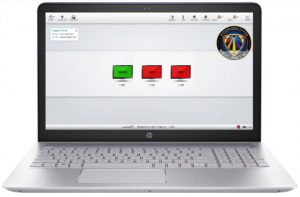 HOW DOES SECUREVIEW WORK?
SecureView is a flexible solution which provides secure access through a combination of traditional and leading-edge connectivity solutions. An organization's existing network infrastructure can be merged seamlessly to deploy SecureView workstations – thereby minimizing deployment cost, complexity, and disruption. If new or additional networks are needed, SecureView can connect to them using Virtual Private Network (VPN) tunnels over the existing infrastructure, including unclassified Internet, while maintaining the required separation and protection of the classified networks. SecureView integrates seamlessly with existing Virtual Desktop Infrastructure (VDI) to enable quick and easy access to network resources. Unlike other MILS solutions that require extensive infrastructure upgrades or investment as part of their deployment, SecureView can often be deployed with minimal change to network infrastructure – drastically increasing cost savings and the speed of deployment.
THE SECUREVIEW DIFFERENCE
SecureView was built from its inception to provide unparalleled security, agilty, and performance for IC and DoD workstations while ALSO minimizing the total cost of ownership. Best of all, SecureView is government-off-the-shelf (GOTS) technology, which keeps the IC and DoD from getting locked into a proprietary or singlevendor solution that would limit their flexibility and scalability. Furthermore, lifecycle costs are kept low for ongoing support, training ans software patches or upgrades.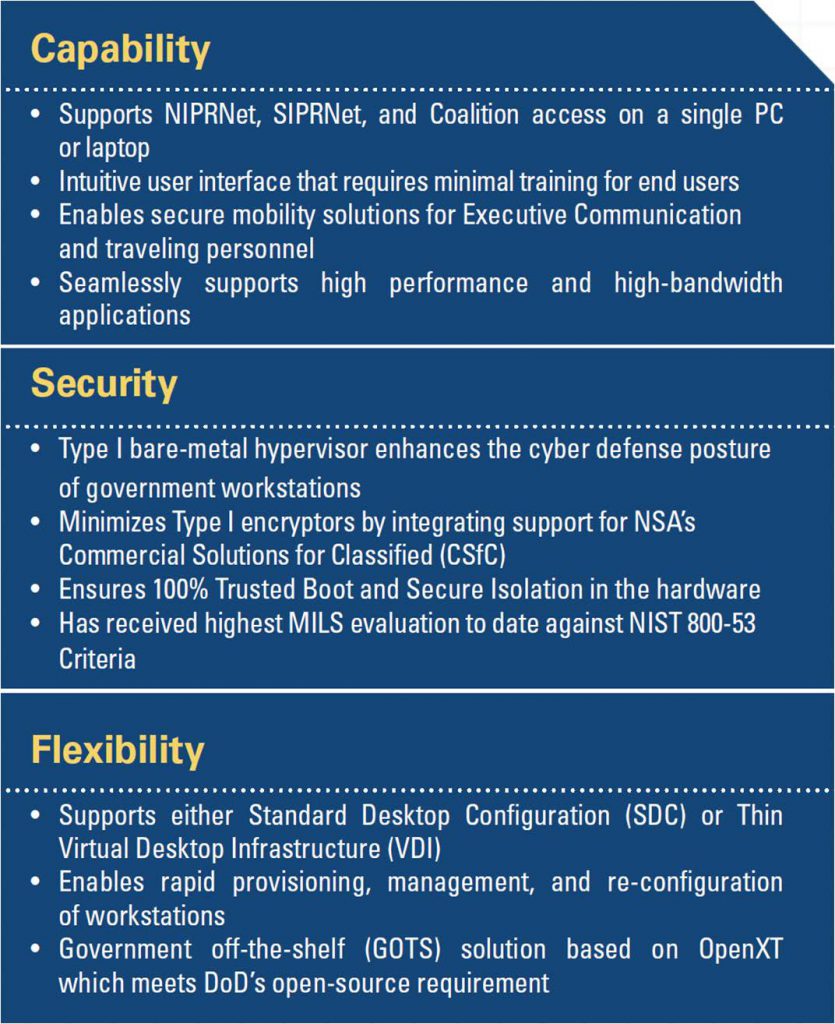 SELF-ENCRYPTING DRIVE SUPPORT
SecureView now supports Self Encrypting Drives (SED), according to the requirements and recommendations set by the NSA Commercial Solutions for Classified program (CSfC). We targeted hardware encryption to maximize performance, partnering with Micron and Digistor to leverage their self-encrypting drives. This is a tremendous cost savings over implementing Data at Rest in each SecureView VM, while providing efficient protection for the entirety of SecureView platforms.
Hardware-implemented encryption with minimal performance impact
Supports multiple users and roles (users, admins, security)
Exportable configuration simplifies deployments
Supports multiple form factors (2, SATA)
Supports username/password, smartcard and Yubikey authentication
SECUREVIEW MANAGEMENT
Organizations have the ability to remotely manage all of their SecureView workstations across their enterprise. The SecureView Management Server (SVMS) enables mission sites to remotely deploy and manage virtual machines (VMs) on individual workstations or by groups of workstations. Additionally, configuring and/or upgrading the workstations is simple using the SVMS. New VMs can be created and seamlessly deployed to establish new Communities of Interest or to support new domains.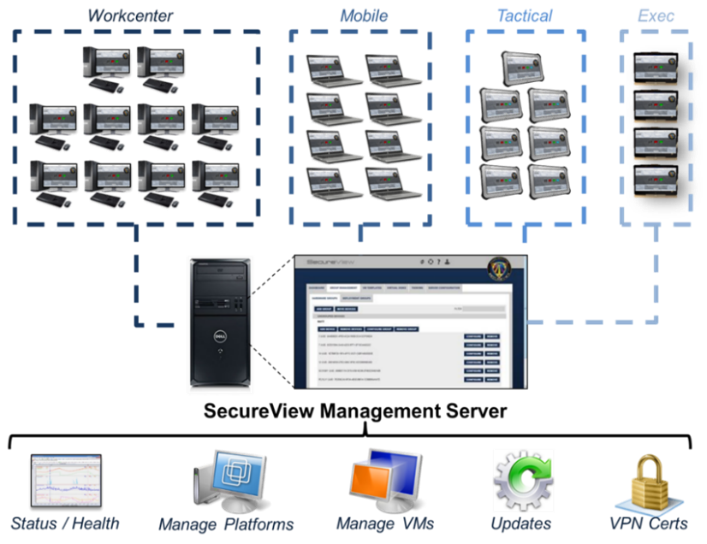 ABMS DEVICEONE SECUREVIEW (ADSV)
ADSV is a remote telework capability providing users with secure access to SIPRNet from home.
Composed of 3 Core Elements
AFRL's SecureView multi-level access solution

Highly secure end user device, supports multiple classification levels simultaneously

NSA's Commercial Solutions for Classified (CSfC)

Ability to tunnel classified networks over commercial comms

Virtual Desktop Infrastructure (VDI) "backend"

Installed in the SIPR datacenter; provides the user desktop, apps and storage

SECUREVIEW MOSAIC
SecureView MOSAIC provides users with a secure and seamless windows environment to view information on a single desktop for multiple security domains and network classifications. The benefit is a tremendous increase in personnel proficiency without compromising security or creating any potential vulnerabilities in SecureView.
CONTACT