AFRL employees receive Great Minds in STEM Award
WRIGHT-PATTERSON AIR FORCE BASE, Ohio – The Air Force Research Laboratory has winners in the Hispanic Engineer National Achievement Awards Corporation Great Minds in Science, Technology, Engineering and Math Heroes Award for 2019.
GMiS is a non-profit organization dedicated to keeping America technologically strong by promoting STEM careers, especially in underserved communities.
Established in 1989 and based in Los Angeles, the organization's nation-wide programming focuses on STEM educational awareness from kindergarten through college, and on seeking-out and documenting the world-class contributions of Hispanic professionals in STEM to serve as role models for the next generation of American engineers and scientists.
The STEM Military and Civilian Hero Awards were established in 2010 in partnership with the U.S. Department of Defense. Through these awards, GMiS pays tribute to the men and women who protect and serve our great nation through their outstanding STEM skills. Honorees for these awards go through the competitive Hispanic Engineer National Achievement Awards Corporation selection process and are honored during the HENAAC Conference.
Among them are outstanding individuals who protect our servicemen and women everyday with technological advancements that are used around the globe and here at home. They are diverse in the work that they do from ensuring the growth and maintenance of the infrastructure of the United States, national security and the protection of freedom.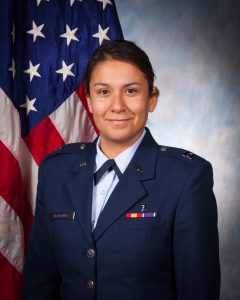 Capt. Lisa Fernandez earned the military award. She served as a medical entomologist and instructor at the United States School of Aerospace Medicine. As a principal investigator, she conducted testing and evaluation of new technologies to identify arthropod-borne pathogens. She currently serves as a public health officer at Misawa Air Base, Japan.
"I am grateful to be recognized for my contributions to STEM and the United States Air Force," said Fernandez. "It is a privilege to be part of a greater network of researchers, public health officials, and military who identify and reduce health risks on a global scale."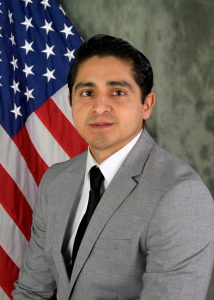 Javier Rodriguez is the civilian awardee. He is recognized for his assistance to the Materials State Awareness Branch where he leveraged robotics and artificial intelligence in aircraft inspections.
Rodriguez led an effort that integrated autonomous robotic systems with nondestructive evaluation modalities. His work involved reengineering an autonomous robotic ground unit that localizes, characterizes, and registers defects found along the serpentine exhaust duct of the Northrop Grumman B-2 Spirit. His research involved analyzing novel ways of stitching two-dimensional images into a three-dimensional model. He is currently the Technical Assistant to the Director of AFRL's Materials and Manufacturing Directorate.
"Becoming a 2019 STEM Hero recognizes the work my colleagues and I tackle on a continual basis," said Rodriguez. "More importantly, it reminds me that the technological achievements and breakthroughs we strive for start and end with the warfighter."
AFRL leaders are proud of the accomplishments of the science and technology workforce.
"We are so proud of these individuals, who lead their respective teams and always with an eye toward innovation," said Brig. Gen. James Dienst, commander of 711th Human Performance Wing.
"This is a significant recognition and certainly well-deserved," said Timothy Sakulich, Director of the Materials and Manufacturing Directorate.
"I want to thank you for representing AFRL so well," said Maj. Gen. William T. Cooley, AFRL Commander.
They will be honored at the 31st Annual GMiS Conference Sept. 25-28, 2019, at Disney's Coronado Springs Resort in Lake Buena Vista, Florida.
To read more on their individual accomplishments, go to:  http://www.greatmindsinstem.org/professionals/military-heroes-2019