AFRL recognizes Aerospace Systems members' exceptional accomplishments
DAYTON, Ohio – The Air Force Research Laboratory Aerospace Systems Directorate hosted the directorate's 7th annual awards luncheon Jan. 24 at the Schuster Center in Dayton to recognize the outstanding accomplishments of their members.
The theme of the event was "Da Vinci: Support & Innovation through the Ages."
"Da Vinci challenged innovators to think in ways never before conceived," said Col. Timothy D. West, acting director of the Aerospace Systems Directorate, during his opening remarks at the luncheon. "We have tasked our scientists, engineers, planners, programmers, and staff to develop new, improved and innovative ways of doing business."
"Air and space superiority have provided a critical asymmetric advantage for our military operations and will continue to determine successes for our nation's defense. This is only possible because of the dedicated work performed by the people of the directorate. Today, I challenge you to not only celebrate the innovation of innovators, but also those who support innovations of others," he said.
Keynote speakers at the event were Maj. Gen. Curtis Bedke, (Ret.), and his wife, Mrs. Ina Bedke. General Bedke retired from the Air Force in 2010 with 32 years of experience in defense weapons systems science and technology, program acquisition, experimental flight test, operations, and command and control. From 2007 until his retirement, he was the commander of AFRL.
Ina Bedke was born in Toronto Canada, the daughter of Lithuanian immigrants who met in a displaced persons camp in the American sector of Germany after escaping the Russians at the end of World War II. She served as a Key Spouse, supporting other Air Force spouses at places General Bedke served.
"Each of you should not only be truly proud, but also humble, because your competition – your comrades – are really, really good and they deserve our thanks and praise also," said Gen. Bedke. "So if you stand out today, well, it's likely not by much, and it's not even on every day, so just be glad that you get to work with such an amazing group of talented and dedicated folks."
General Bedke spoke about how the character of war has changed over time.
"Where the character of war has changed, it has almost always been due to one thing: technology. It gives its user an edge in battle – both in capability and in the element of surprise. Wars are won either by cleverness…on a relatively level playing field or by technology, which makes for a dramatically uneven playing field. Your job is to keep the field uneven by giving our nation the technology that allows us to stay ahead," the former AFRL commander said.
"If it is technology that over the centuries, or even within the span of a decade, that makes the overarching difference, then no person here should ever see yourself or let anybody else in our military see you as a 'nice to have' or a 'Support Geek' who doesn't have a stake or role in the fight. There will always be brave, well-trained, selfless warriors who required to put themselves in harm's way, but they only have a chance of winning if you give them the tools to remain the superior military. If you don't do your job, then we will eventually lose, and in this day of rapid technology advances, the loser will not get a second chance."
A list of the award winners at the AFRL 7th annual Aerospace Systems Directorate awards luncheon follows:
Administrative Excellence – Lauren D. Searcy
Senior Administrative Excellence – Wanda F. Nelson
Scientific/Technical Technician – Kevin L. King
Scientific/Technical Technician Team – Subsonic Aerodynamic Research Laboratory (SARL) & Trisonic Gasdynamics Facility (TGF) Repair Team – Nathan S. Brown, Frederick E. Gillium, Jr., Rodney J. Gough, Paul Olekas
Mission Support – Audrey L. Krupinski
Mission Support Team – Test Assurance Team – Timothy P. Auyeung, Tuong V. Chu, Jeff R. Buetemeister, Jeffrey R. Dodson, Jeff S. Holliday
Mentoring – Justin R. DelMar
Leadership – Robert L. Taylor
Senior Leadership – Dr. Douglas P. Meador
Supervisory – David B. Homan
Noncommissioned Officer of the Year – Staff Sgt. Tyler A. Ellis
Senior Noncommissioned Officer of the Year – Master Sgt. David C. Rash
IMA Company Grade Officer of the Year – Capt. John J. Scavone
Company Grade Officer of the Year – Maj. Nicholas A. Gilbert
IMA Field Grade Officer of the Year – Maj. Joshua S. Frederik
Field Grade Officer of the Year – Maj. Ryan W. Carr
Innovation – 1st Lt. Riley Huff
Scientific and Technical Management – Matthew C. Billingsley
Scientific and Technical Achievement – Dr. Thorsten G. Schroer
Scientific and Technical Achievement Team – LCASD In-House Ground Test Team – Dr. Todd J. Smith, Kyle R. Adkins, Travis A. Wyen, Nathaniel R. Smith, Dr. Quinn H. Leland, & 2nd Lt. Nathaniel R. Peck
International – Dr. David W. Casbeer
International Team – High Temperature Case Technology Team – Geoffrey E. Trapp, Dr. Gregory R. Yandek, and 2nd Lt. Cody T. Rochford
Civilian of the Year Category I – Megan M. Linton
Civilian of the Year Category II – Latasha A. Dixon
Civilian of the Year Category III – Peter J. Koch
Director's Trophy Classified Junior Force – Andrew C. Dwenger
Director's Trophy Classified Senior – Jacob L. Hinchman
Director's Trophy Classified Team – War Gaming Team (Integrated Framework for Hypersonic Analysis) – William J. Gillard, Dr. Tadeusz J. Masternak, Lt. Col. John G. Dayton, Zachary L. White, Edgardo Santiago-Maldonado
Director's Trophy Junior Force – Michael C. Jagelewski
Director's Trophy Senior – William G. Baron
Director's Trophy Team – Great Horned Owl Team – Dr. Lewis T. Ross , Dr. Charles L. Kessler, 1st Lt. Zachariah A. Provchy, Lauren A. Zientarski , Dr. Gregory W. Reich , 1st Lt. Peter T. Heidlauf
Rivir Award – Dr. Nicholas J. Bisek
Simpson Award – AGCAS Hy-Tech Team – Amy C. Burns, Kevin L. Price, Maj. Samuel J. Meyer
Perkins Award – Directed Energy Turret Aero-optic Flow Control Team – Rudy A. Johnson, Dr. Scott E. Sherer, Benjamin J. Hagen
Ross Award – Dr. Gregory R. Yandek
Heron Award – Dr. William K. Lewis
Foulois Award – Hybrid Thermal Lift Team – Travis E. Michalak, Dr. Abdeel J. Roman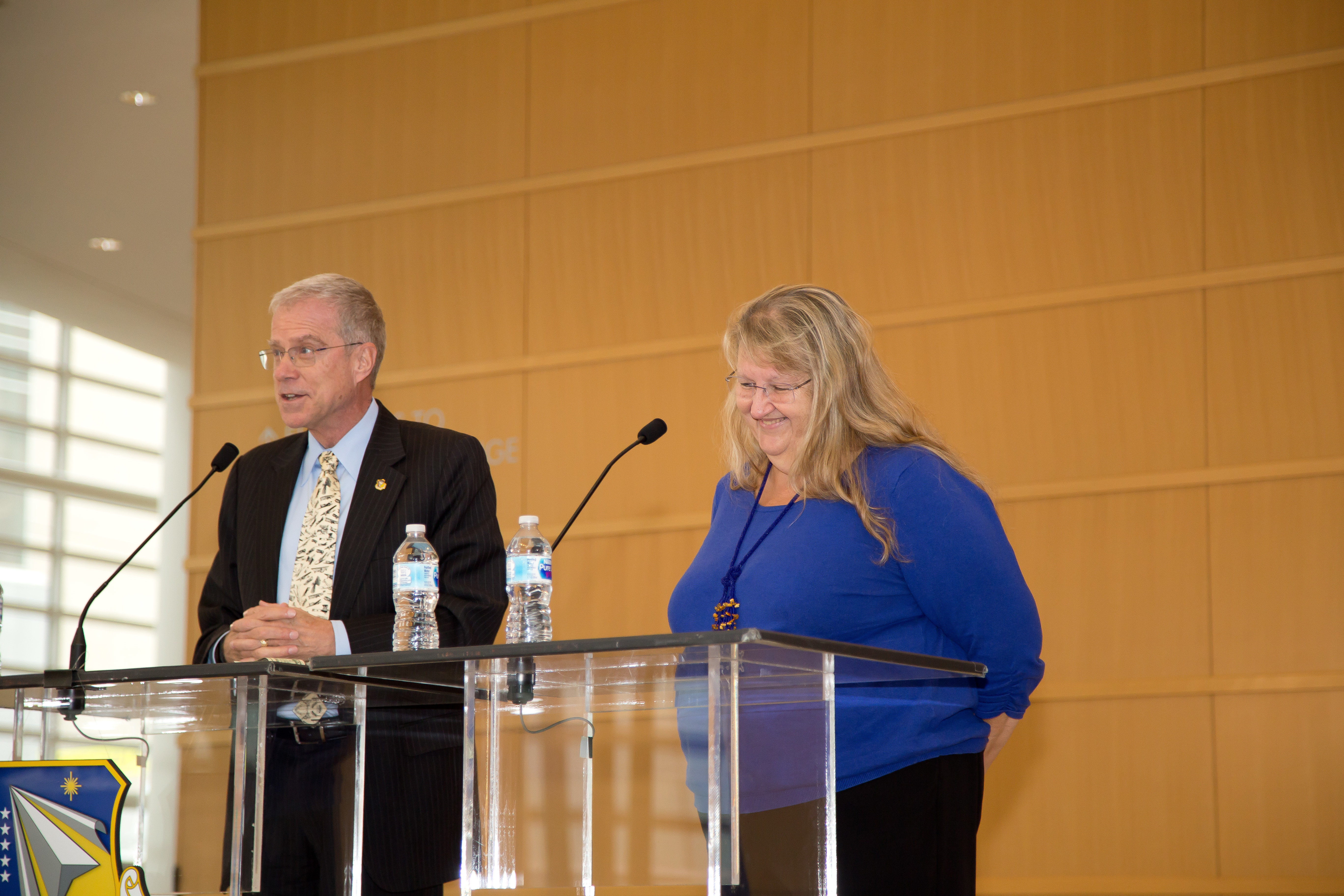 Former AFRL Commander, Maj. Gen. (Ret.) Curtis Bedke and his wife, Ina, were guest speakers at the Aerospace Systems Directorate's Annual Awards Ceremony held Jan. 24 at the Schuster Center in downtown Dayton. (U.S. Air Force photo/Danielle DeBorde)