AFRL researchers win STAR recognition
KIRTLAND AIR FORCE BASE, N.M. — The Air Force Research Laboratory recently announced eight Air Force Office of Scientific Research STAR Team Award winners. The award recognizes excellence in basic research across AFRL's technology directorates, and identifies those researchers who have demonstrated world class scientific or engineering achievement.
Two of the STAR Team winners, Dr. Brad Hoff and Dr. Angel Flores, are from AFRL's Directed Energy Directorate located at Kirtland AFB.
Hoff, a native of Lodi, Calif. and a U.S. Naval Academy graduate, began his career with AFRL in 2009 following five years of service in U.S. Navy as a surface warfare officer on the USS Elliott (DD-967), a conventional destroyer, and afterwards as an engineer on the nuclear-powered aircraft carrier, USS Enterprise (CVN-65). Along his career journey, Hoff furthered his education, receiving a doctorate in nuclear engineering from the University of Michigan (Ann Arbor).
"It is an honor to be selected for an AFOSR Star Team award as it acknowledges our team's efforts to perform high quality research in the interest of enabling future Air Force capabilities," Hoff said.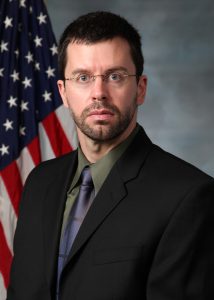 Hoff and his team's research will look into millimeter wave interactions with high temperature materials.
"We are hoping to develop a better understanding of the interactions of high power microwave and millimeter wave radiation with high temperature materials," Hoff said. "We have confidence this research will enable the development and application of these materials in the extreme environments associated with next generation high power directed energy sources and power beaming systems."
Hoff, whose current job is a technical advisor within AFRL's High Power Electromagnetics Division, said he enjoys opportunities to leverage knowledge, techniques, and collaborations developed as part of basic research efforts, such as those supported by AFOSR, in support of emerging Air Force technology challenges.
Born and raised in New York City, Flores attended the University of Miami (Florida) where he graduated with a doctorate in electrical engineering. In 2009 following graduation, he began his federal civil service career at AFRL's Directed Energy Directorate concentrating on research in the areas of power scaling and beam combination of high-energy lasers.
"Successful development of fieldable laser systems is expected to have a vast impact for future U.S. Air Force and military applications in general," Flores said. "As such, fiber lasers have many advantages over canonical laser systems such as compactness, high output efficiencies, and excellent beam quality."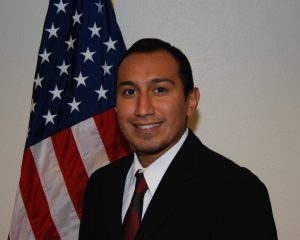 Flores was selected for the STAR Team award to pursue research in fiber laser power scaling at long near-infrared (2µm) and mid-infrared wavelengths for directed energy and sensing applications.
"Being named an Air Force Office of Scientific Research STAR Team is a tremendous honor," Flores said. "The AFOSR Laser and Optics program has a distinguished history of funding numerous influential developments in laser physics and has given awards to some of the top laser researchers in the world."
Flores explains the STAR Team award offers AFRL the opportunity to further its high power laser research.
"My team and I aim to extend our theoretical and experimental fiber laser research to eye-safe wavelengths operating at high atmospheric transmission," he said. "We will research and develop high power 2µm fiber lasers with improved efficiency and atmospheric propagation, and novel mid-infrared crystals with enhanced power handling. We believe the proposed research in 2µm fiber lasers and mid-infrared crystals can have a strong impact on the Department of Defense directed energy and sensing communities."