AFRL welcomes new Chief Technology Officer
WRIGHT-PATTERSON AIR FORCE BASE, Ohio – In his new role as AFRL's Chief Technology Officer (CTO), Dr. Timothy Bunning says his main goal is to serve as an ambassador for the scientists and engineers (S&Es) by advocating on their behalf and ensuring they have a corporate voice.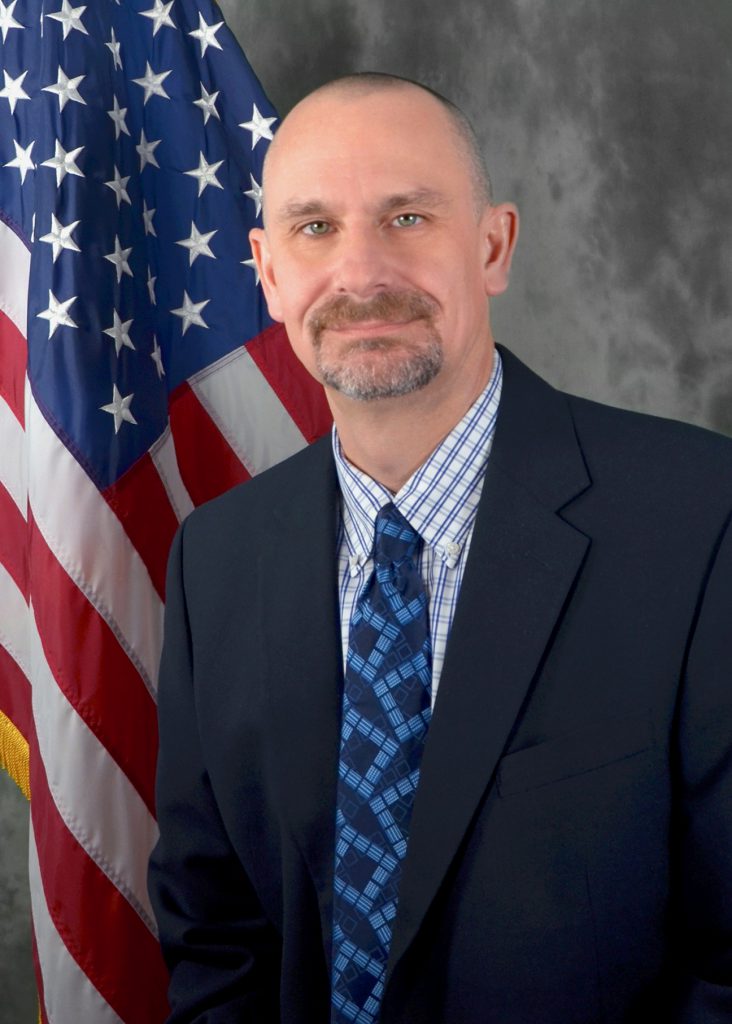 "I want to do everything I can from a workforce development perspective to open doors for them," Bunning said.
Timothy Sakulich, the director of AFRL's Materials and Manufacturing Directorate (RX), describes longtime colleague, Bunning, as the epitome of what a CTO should be, saying that he has the necessary personality, credibility and stature to effectively represent the Air Force science and technology mission and our S&Es externally and internally, particularly in the decision-making process.
"He knows what's needed to support the Air Force, what it takes to lead a complex organization, and he fully appreciates the opportunities and challenges of working in a scientific laboratory," said Sakulich. Bunning will "greatly support the morale that's so critical to the success and effectiveness of our organization."
As the S&Es' representative, Bunning will work closely with Air Force leadership, various groups responsible for making science and technology decisions (including Major Commands and the Air Force Warfighting Integration Capability), as well as industry and academia. He believes strongly in collaboration, especially among the experts across AFRL's Technology Directorates (TDs).
"If we are going to succeed as an organization, we must work across the seams," he explains. "Increasing collaboration across the TDs is critical to growing AFRL to where it needs to be five to ten years from now."
Bunning explains that when individuals with different skills and areas of expertise work together, they become more effective at solving difficult problems. He's seen successful teamwork first-hand in his own career. Today, he considers his new role of CTO, representing all of AFRL, to be a great honor.
"Our S&Es do great things every day," he says citing the phenomenal work in the labs that could not be done anywhere else.
While Bunning, a 30-year veteran of AFRL's Materials and Manufacturing Directorate, has an extensive list of scientific achievements, his colleagues appreciate him most for his down-to-earth personality and humble nature.
"Call me Tim," he insists.
Bunning, a member of the senior executive service, and former RX chief scientist, has a background in polymers and liquid crystals as a soft matter expert. His research involving optical sensing, laser beam control and filtering applications produced 18 patents and led to fellowships in eight different professional societies.
He first came to the lab in 1990 as a chemical engineering student from the University of Connecticut. With an Air Force Office of Scientific Research Fellowship funding his Ph.D. research, Bunning spent a summer working for his sponsoring agency then called the Materials Lab. He enjoyed this experience so much that he came back for a second summer, and then never left.
"Good people, good mission, [excellent] quality of life," he explains. "AFRL is my home."
For the next few years, Bunning worked with an in-house research team building a comprehensive program responsive to Air Force technology needs. This group included several up and comers: Dr. Rajesh Naik, chief scientist of the 711th Human Performance Wing; Christopher Ristich, director of AFRL's Strategic Development Planning and Experimentation office; and Dr. Morley Stone, former AFRL CTO. Collectively, the team embarked on new areas of research and nearly tripled in size.
Some years later, RX Branch Chief Pamela Schaefer, approached Bunning about a program management position, a role he accepted, although hesitantly, he admits.
"I always consider myself a scientist, and I love being in the lab," he said. "I love working with my research group, pushing the state-of-the-art forward."
Schaefer, a longtime colleague, wasn't surprised when Bunning "performed exceptionally well" and "continued to take on roles for the betterment of the organization." Ultimately, he served as a research group leader, branch chief, technical director and division chief, providing vision to a broad range of people and programs.
"People gravitated to him and wanted to be a part of his team," said Schaefer. He's "passionate about research and highly respected in the scientific community."
Over the years, Bunning says he learned valuable lessons from his colleagues including strategic risk taking, patience and enthusiasm.
"I've always had really great people around me," he says.
Bunning's advice to aspiring professionals is simple.
"Work hard, be a great teammate, do high-quality work, have integrity and opportunities will find you," he says.
He calls the people he mentored over the years, who are now part of the next generation of AFRL's workforce, his greatest achievement.
"It's what I've given back to the organization that makes me smile the most," he said.
Bunning explains that he's always thought of his role [as a leader] as growing people and growing teams.
"I'm a big believer in teamwork. You can do a lot more together than you can as an individual."
Furthermore, since he sees significant overlap in the roles and responsibilities of scientists and engineers, he plans to build relationships between the two groups within AFRL to "represent S&T through the continuum."
Science and engineering are parallel disciplines, so "I would like them to work together more," he says.
Bunning says that as CTO, he will enhance the technical rigor involved in the development and assessment of S&T programs, especially those at the enterprise level, and advocate for independent evaluations.
He will also engage with the Air Force S&T implementation team to present additional tools and guidance to the S&Es. Bunning describes the Air Force S&T strategy as a unified, transformational approach to ensure that the U.S. responds effectively to the new threats presented by near-peer competitors. He sees its implementation as an opportunity for the S&Es "to do even greater stuff, albeit slightly different, for the future."
"I'm excited to go work with our S&Es to facilitate" [this shift] in how the Air Force develops and delivers technology," he said.
While he contends that he does not have all the answers pertaining to science and technology, Bunning asserts that no one will work harder than he will to lead S&T successfully and position AFRL for a promising future.