AFRL's Minority Leaders Program pursues further expansion
WRIGHT-PATTERSON AIR FORCE BASE, Ohio (AFRL) — Since 2005, the Air Force Research Laboratory Minority Leaders – Research Collaboration Program, or ML-RCP, has sought to expand and enhance the research capabilities of Historically Black Colleges and Universities, or HBCUs, and Minority Serving Institutions, or MSIs, through collaborative research efforts. The program enables research partnerships between AFRL and academia, appealing to a diverse pool of scientists and engineers in addressing foundational research challenges in support of the nation's air, space and cyberspace technology needs. Equally important, the program entices students to learn about AFRL with the hopes of wanting to work within the Department of Defense, or DOD.
Benefits of institutions working with the ML-RCP include opportunities for students to work on cutting-edge research that aligns with the DOD's critical technology areas as well as joint program initiatives. As a result, ML-RCP is seeing a capacity increase at the HBCUs and MSIs, along with more students pursuing undergraduate and graduate STEM degrees.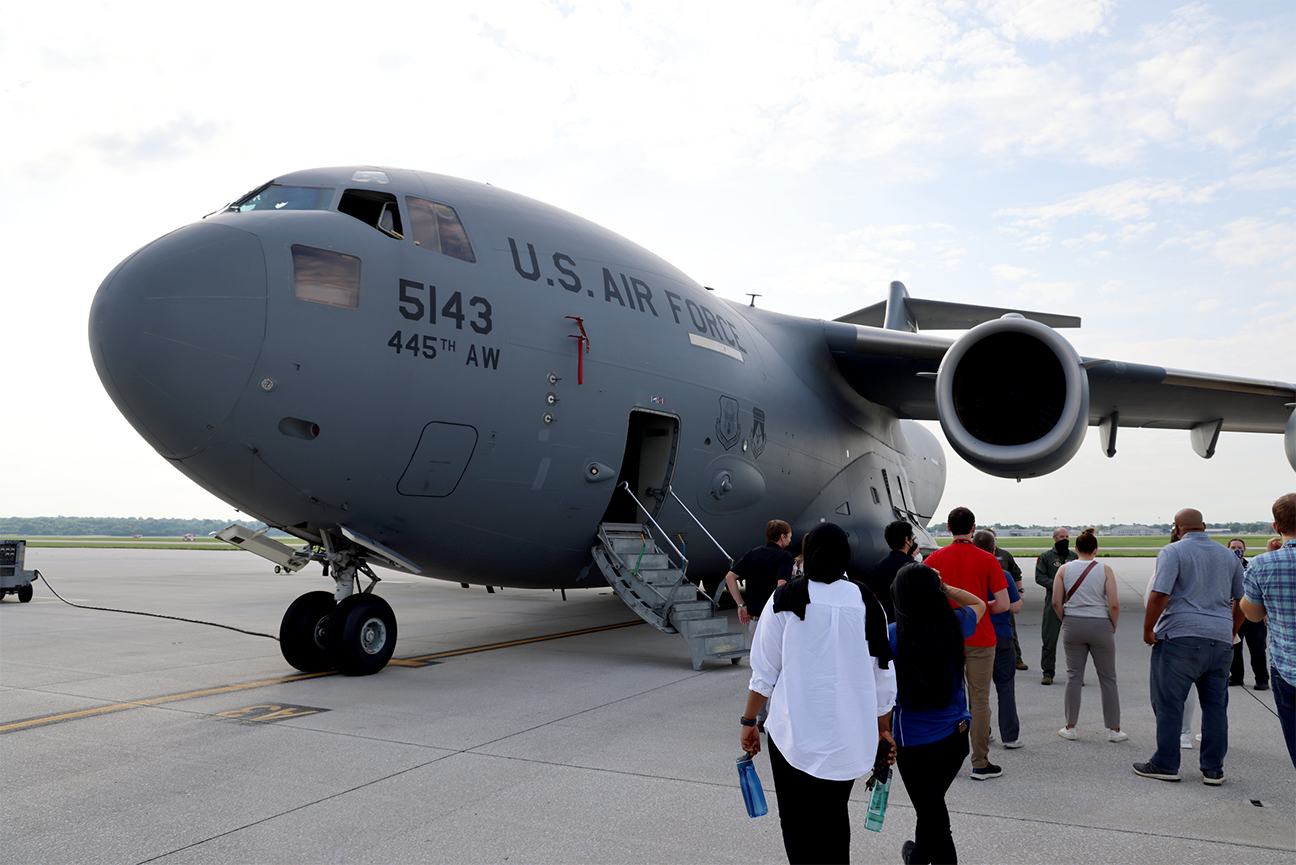 Summer 2022's slate of Air Force Research Laboratory, or AFRL Minority Leaders – Research Collaboration Program interns vsit a C-17 at Wright Patterson Air Force Base. AFRL summer internships grant access to specialized research equipment and laboratory space to engage in ongoing research projects and augment the recruitment pipeline for the next generation of leaders in science, technology, engineering and math (U.S. Air Force photo)"We want to work with a diverse pool of talent that are addressing the challenges that we have in the Air Force," said Asheley Blackford, ML-RCP program manager for AFRL. "With that, we have had HBCUs and MSIs involved in this program to help meet that mission. We bring in students to work on-site with our AFRL research scientists and engineers. Having an opportunity to experience working in a laboratory is crucial to understanding the benefits of a DOD career".
The ML-RCP publishes Project Opportunity Announcements, which provide information for institutions to propose against requirements across AFRL that can lead to a one to two-year cooperative agreement if the university's or college's proposal is selected for award. These efforts emphasize faculty and student partnerships and make provisions for summer internships for students to work on-site at AFRL locations.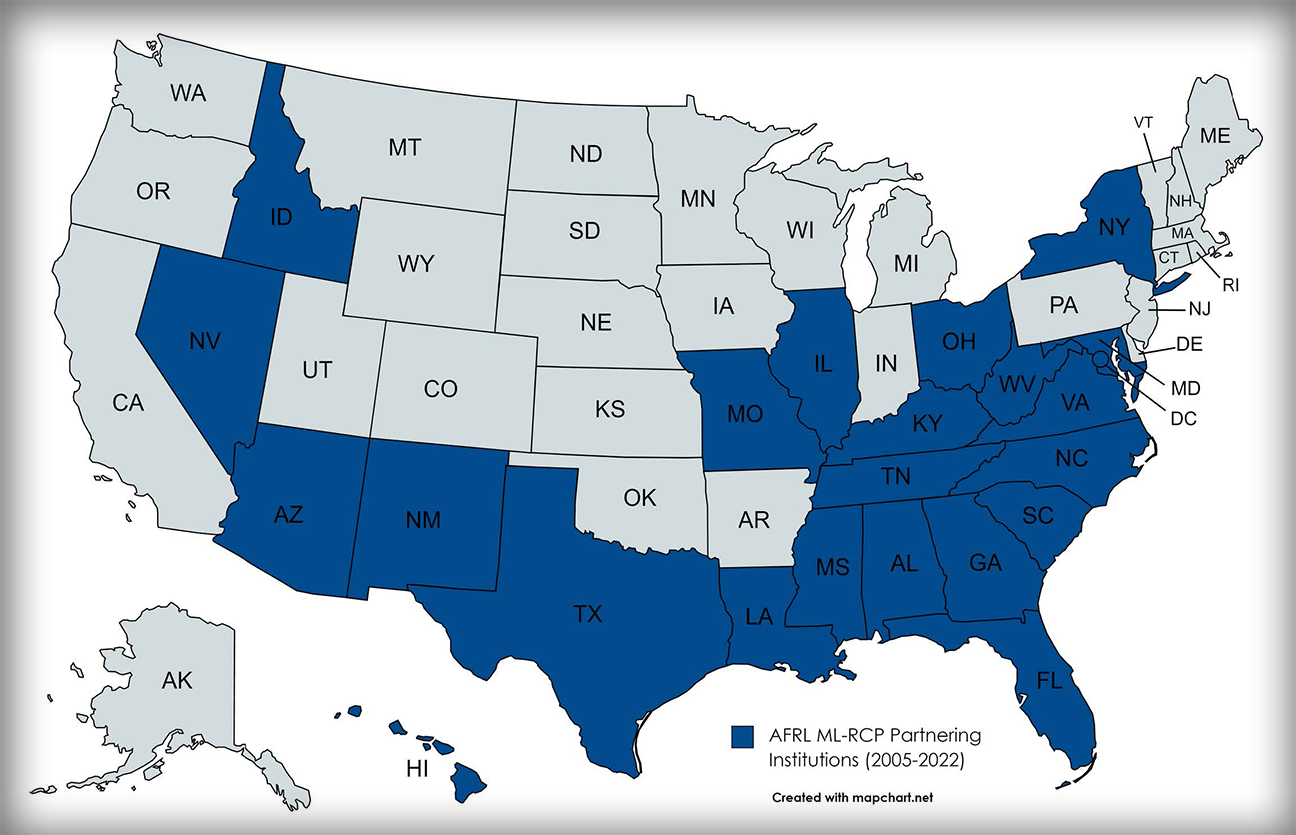 ML-RCP includes partner institutions from over 20 states creating a network of people and organizations collaborating with AFRL on a variety of research projects. (U.S. Air Force graphic)To date, more than 200 student internships have been awarded between 2013 and 2022. Students assigned to these projects to work throughout their academic year.
"The students are working with their AFRL research mentors and their faculty on research efforts that directly align to senior projects, theses, and dissertations," Blackford said. "They are developing these relationships with our subject matter experts here at AFRL and then we bring students on base in the summer to do an expansion or continuation of that research that they have been working on throughout the year."
ML-RCP leadership and personnel emphasize creating long-lasting relationships with academic institutions. In addition, they want to expand the knowledge of the program between the institutions and AFRL researchers and want to see the ML-RCP continue to emerge as a flagship program for AFRL. The ML-RCP is the largest HBCU/MSI research initiative in the Department of the Air Force and this program currently has 40 university participants with more than 35 active research efforts across AFRL.
"I would love to see all the HBCUs and MSIs as members in the program so that they are able to compete for opportunities that we have through the program. Bringing diverse thinking to our way of doing business in AFRL can only increase our effectiveness," Blackford said.
For additional information about the ML-RCP, including information on becoming a member and exploring project opportunities, visit: https://mlrcp.afresearchlab.com/.
About AFRL
The Air Force Research Laboratory, or AFRL, is the primary scientific research and development center for the Department of the Air Force. AFRL plays an integral role in leading the discovery, development and integration of affordable warfighting technologies for our air, space and cyberspace force. With a workforce of more than 11,500 across nine technology areas and 40 other operations across the globe, AFRL provides a diverse portfolio of science and technology ranging from fundamental to advanced research and technology development. For more information, visit: www.afresearchlab.com.