Beloved former AFRL director honored posthumously for defense manufacturing advocacy
WRIGHT-PATTERSON AIR FORCE BASE, OHIO (AFRL) — Former Air Force Research Laboratory, or AFRL, Director and Vice Commander Dr. David "Dave" E. Walker was honored posthumously by the Joint Defense Manufacturing Technology Panel, or JDMTP, at the Defense Manufacturing Conference in Tampa, Florida, in December 2022. The late Walker, a beloved former director of AFRL's Materials and Manufacturing Directorate and passionate advocate for DOD-sponsored manufacturing technology programs, was named as a recipient of the JDMTP's 2022 Defense Manufacturing Champion Award. Walker died unexpectedly in January 2020 at the age of 61, following a storied career spent in service to the nation's defense.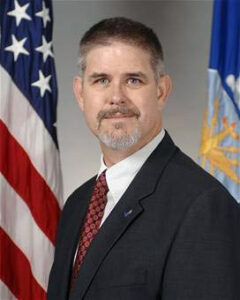 The Defense Manufacturing Champion Award recognizes individuals in government or the private sector who make significant and enduring contributions to the DOD Manufacturing Technology, or ManTech, program, according to a 2022 DOD ManTech brochure. The JDMTP awards this honor at its discretion on behalf of all the ManTech programs of the Army, Navy, Air Force, Defense Logistics Agency, Missile Defense Agency and the Office of the Secretary of Defense.
"Throughout his career, Dave held a variety of high-level positions in which he had a lot of authority over where and how the Air Force spent its money, and he was always such a phenomenal advocate for the ManTech program," said Dr. Chuck Ormsby, division chief in AFRL's Materials and Manufacturing Directorate. "He always had the facts and the figures in his hip pocket — he could tell you how much money we were saving the Air Force, how we were scaling our manufacturing capability to get the best weapons into the hands of the warfighters. He was in touch with what the defense needs were and truly understood the value of this program. It was something that he believed in, and fought for, very strongly."
According to the JDMTP, a defense manufacturing "champion" consistently and ardently supports the powerful impact of ManTech programs to increase warfighter capability, reduce cost and improve performance. Defense Manufacturing Champion honorees are committed to keeping the DOD at the forefront of defense-essential manufacturing capability and strive to ensure that industry can quickly and affordably supply the most advanced technologies and place them into the hands of warfighters.
Walker, an Air Force master navigator who logged more than 2,700 hours in 65 different types of aircraft, retired from an active-duty career as a colonel and entered the Senior Executive Service, or SES, in 2006, according to his official biography. Prior to this, as an active-duty colonel, Walker also served as the AFRL director of air vehicles and, later, as vice commander for AFRL.
As an SES, Walker served as director of AFRL's Materials and Manufacturing Directorate from 2006 until 2007. He then moved to the Pentagon in Washington, D.C., where he worked as the associate director of programs in plans and programs, associate deputy assistant secretary of the Air Force for acquisition integration, and, finally, as the deputy assistant secretary of the Air Force for science, technology and engineering.
Walker's last appointment as an SES was as research and development portfolio director in the Office of Naval Research in 2017, where he also oversaw the Navy's ManTech program. At the time of his death in 2020, Walker served as executive director of the Wright Brothers Institute.
Walker is remembered by his former colleagues as a supportive, engaging and humble leader who prioritized his family, loved to fly and empowered his co-workers and staff.
"He was very grounded and down-to-Earth, especially as someone who bore such tremendous responsibility and had such a successful career," said Ormsby, who first crossed paths with Walker when he served as Walker's deputy at the Pentagon in the early 2010s. "He was most proud of his family — he loved to tell stories about what his daughters were up to, how his wife was doing. And, frankly, he loved flying and if he could have done that forever, I think he would have."
Professionally, Walker placed great faith in the individuals who worked under him and trusted them to do their jobs, Ormsby added.
"Dave never wanted to see anyone fail, but he wasn't going to step in and solve a problem for you," Ormsby said. "He'd help you figure out the right person to call, make sure you got the help you needed. But then it was hands-off. I think a lot of leaders struggle with that – they see things start to go off the tracks and they want to fix the problem for you. Dave was going to let you learn how to fix it, because he really wanted to develop the leaders coming up behind him. And the Air Force is better for it."
Kevin Gooder, division chief for Resource Planning and Integration for the Air Force Office of Scientific Research, also worked under Walker at the Pentagon as his division chief for Congressional, Budget, Prototyping and Experimentation. Walker's leadership style was such that he enjoyed kick-starting initiatives, then selecting and empowering staff to manage projects moving forward, Gooder said.
"Dave gave people a lot of autonomy," Gooder said. "He would keep checking in, give guidance, provide little vectors here and there – he loved to get things started, but he trusted us to bring projects to fruition."
At one point in Walker's career, when he served as deputy assistant secretary of the Air Force for science, technology and engineering in Washington, D.C., Walker was required to testify annually before Congress regarding management of the DAF's now-$3 billion science and technology portfolio. Walker's commitment to ensuring that his mentees gained similar practical experience meant that, sometimes, he would unabashedly push his people out front, Gooder said.
"There was a time when he [Walker] was supposed to provide testimony in front of Congress, and on the morning of, he came into my office and told me that he wasn't feeling well and that I was going to have to testify for him," Gooder said. "And, you know, I think he faked being sick."
It was, Gooder added, just the sort of thing that Walker would do.
"He had been in the office all that morning, he seemed totally fine — but then, all of a sudden, it was just, 'I can't make it; you're going to have to go in my place,'" Gooder recalled. "I think he just really wanted me to have that opportunity to learn."
To this day, Gooder said, he and his colleagues still laugh when they tell the story.
Walker was also deeply committed to diversity, equity and inclusion efforts across AFRL, and as director of AFRL's Materials and Manufacturing Directorate, helped to kick-start what would eventually become AFRL's Minority Leaders Research Collaboration Program, or ML-RCP. ML-RCP enables collaborative research partnerships between AFRL and academia that engage a diverse talent pool in addressing foundational research challenges in support of the nation's air, space, and cyberspace technology needs, according to the ML-RCP webpage.
"Dave knew how to obtain advocacy for AFRL," Gooder said. "He was good at protecting and maintaining AFRL's budget, and he had this great technical knowledge of what exactly AFRL does. I watched him give a briefing once – we had offered to trim down the number of slides in the slide deck for him because there were 65 slides and he only had 45 minutes to brief. And he said, 'Oh, no, just leave them in there, I got it.' And he did it, answering questions along the way about the entire lab's technologies."
Ultimately, Walker's family, friends and colleagues remember him for who and what he loved the most.
"He loved his wife and his daughters," Gooder said. "And he dedicated his life to protecting the future of the U.S. Department of the Air Force."
About AFRL
The Air Force Research Laboratory is the primary scientific research and development center for the Department of the Air Force. AFRL plays an integral role in leading the discovery, development and integration of affordable warfighting technologies for our air, space and cyberspace force. With a workforce of more than 11,500 across nine technology areas and 40 other operations across the globe, AFRL provides a diverse portfolio of science and technology ranging from fundamental to advanced research and technology development. For more information, visit www.afresearchlab.com.