Career accomplishments earn two AFRL scientists Presidential Rank Awards
WRIGHT-PATTERSON AIR FORCE BASE, Ohio – Two senior executives from the Air Force Research Laboratory have been recognized by the White House with the Presidential Rank Award for 2018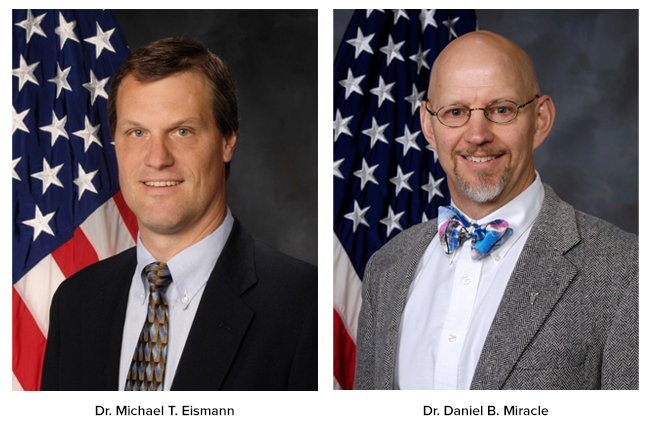 Dr. Michael T. Eismann, chief scientist for AFRL's Sensors Directorate and Dr. Daniel B. Miracle, senior scientist for Nanotechnology at AFRL's Materials and Manufacturing Directorate, will each be recognized for their sustained accomplishments, exemplary public service, and demonstrated consistent and lasting dedication to the mission during the Presidential Rank Awards Leadership Summit Dec. 13 in Washington, D.C.
Presidential Rank Awards are the top award a civilian federal employee can receive and are given by the President of the United States to exemplary federal leaders who have overseen successful federal initiatives with a sweeping impact, according to the event website.
Eismann is internationally recognized for outstanding scientific contributions in electro-optical sensing technology, specifically concerning the advancement of hyperspectral imaging and infrared sensing for defense applications.
His efforts as Senior Scientist for electro-optical sensing helped mature hyperspectral and infrared surveillance capabilities supporting successful Middle East deployments and he also initiated and led new developments in long range reconnaissance and laser radar to address future challenges of contested military operations, among a long list of other career accomplishments.
"I am truly honored to be recognized at the Presidential level for my contributions to the Air Force, and am humbled to be part of this amazing group of senior executives who are so dedicated to the mission of securing our national interests," Eismann said.
As the primary technical advisor to senior Air Force leadership concerning nanoscience technology research and development efforts, Miracle oversees the technical content and direction of an $80 million Air Force research and development portfolio that develops nanotechnologies for sensors, munitions, fuels, spacecraft, and aircraft for the Air Force.
Miracle was the first scientist in the world to unravel the atomic structure of metallic glasses – a family of alloys used commercially for their exceptional magnetic properties. Potential Department of Defense applications include armor-piercing projectiles and satellite radiator panels – both of which were pursued in a $30 million Defense Advanced Research Projects Agency initiative.
In addition, extensive worldwide efforts over the past 45 years have exhausted all ideas to increase maximum use temperatures for metal alloys, but in 2010, Miracle introduced a new family of metal alloys to meet these long-sought goals. These alloys are now being pursued to fill a critical technology gap for the first generation of practical hypersonic munitions, a game-changing Air Force technology.
"It's truly an honor to receive this award. I'm especially grateful to the many talented, dedicated and passionate colleagues I've had the good fortune to work with over the years, and for the important problems that I've been able to work on within the Air Force Research Laboratory," Miracle said. "It's a great environment that encourages success, and I hope I can pass along lessons I've learned to the new group of talented folks just starting in their careers."
The Air Force is stimulating new thinking about future ways of warfighting and the answers to some of the most complex challenges are being provided by scientists and engineers from across AFRL, led by Maj. Gen. William T. Cooley, commander. According to Cooley, it is imperative that the lab be competitive in attracting and keeping scientists of the caliber of Eismann and Miracle to ensure the nation's warfighters maintain a technological advantage.
"The driving force behind AFRL's innovations are its people, and Eismann and Miracle are exemplary examples of employees whose dedication has had a tangible impact on our national security," said Cooley. "To continue America's technological superiority for decades into the future, we must ensure the Air Force is an employer of choice for leading scientists and engineers."
According to the Office of Personnel Management website, the Civil Service Reform Act of 1978 established the Presidential Rank Awards Program to recognize a select group of career members of the Senior Executive Service for exceptional performance over an extended period of time. Later, the Rank Award statute was amended to extend eligibility to senior career employees with a sustained record of exceptional professional, technical, and/or scientific achievement recognized on a national or international level.
Two categories of Presidential Rank Awards are available and include Distinguished Rank Recipients and Meritorious Rank Recipients.
Distinguished Rank Recipients are recognized for sustained extraordinary accomplishment, and receive a cash award of 35 percent of their base salary. Only one percent of the career SES or SL/ST may receive this rank.
Meritorious Rank Recipients are recognized for sustained accomplishment, and receive a cash award of 20 percent of their base salary. No more than five percent of career SES or SL/ST members may receive this award.
For more information about the 2018 Presidential Rank Awards Leadership Summit, visit https://www.presidentialrankawards.com/