AFRL Inspire event with TEDx-style talks to be livestreamed
WRIGHT-PATTERSON AIR FORCE BASE, Ohio (AFRL) — AFRL Inspire, a three-hour special event presented by the Air Force Research Laboratory with eight TEDx-style talks, will be livestreamed from the Air Force Institute of Technology's Kenney Hall, Aug. 23, 2022, at 1 p.m. EDT. Inspire showcases the innovative ideas and passionate people from across the science and technology enterprise through entertaining and thought-provoking talks where speakers share personal stories and make complex topics more understandable.
"This event provides a unique opportunity to bond with our amazing workforce and feed our curiosity with the technologies they develop for Airmen and Guardians," said AFRL Commander Maj. Gen. Heather Pringle. "Nothing gets done without our people, and I'm excited to celebrate their incredible achievements and rich history."
This year's program, which celebrates the 75th anniversary of the U.S. Air Force, features nine employees from across the lab and one special guest speaker, retired Gen. Ellen Pawlikowski, a former commander of AFRL and Air Force Materiel Command. AFRL historians Dr. Darren Raspa and Jeff Duford will serve as the hosts, highlighting the importance of learning from the past to ensure future success in innovation.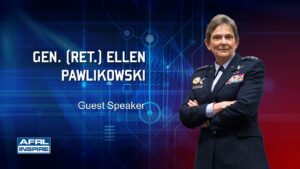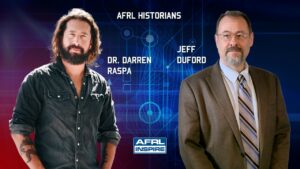 "We are excited to highlight present-day stories from people across the lab who are making history right now," Duford said. "Our speakers are part of a continuum that reaches deep into the past and will have ramifications for how we develop technology into the future. We can all solve today's problems better when we arm ourselves with lessons from the past."
With topics spanning from an astrophysicist's journey to Antarctica to a biologist's trip under the sea, speakers will share how they develop solutions for warfighters, highlighting their passion, ingenuity and dedication to the mission. This year's lineup of speakers features AFRL scientists, engineers and professionals including: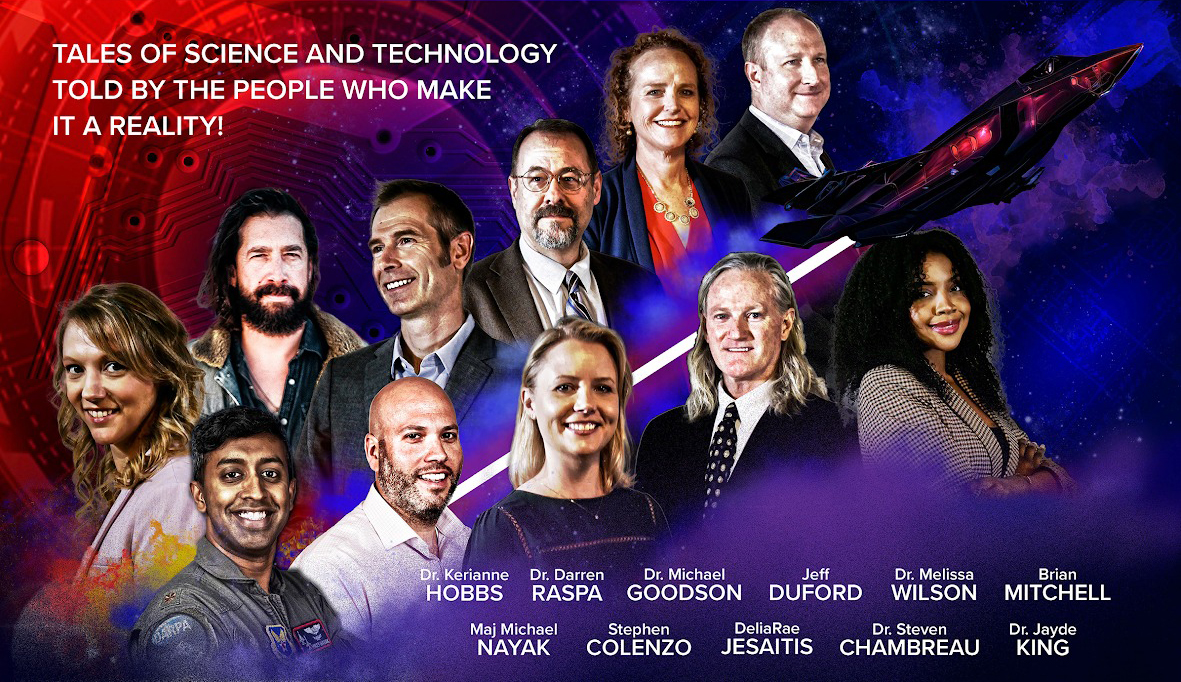 Dr. Steve Chambreau, physical chemist; Aerospace Systems Directorate; Edwards Air Force Base, California;
Steve Colenzo, technology transfer lead; Information Directorate; Rome, New York;
Dr. Mike Goodson, research biologist; 711th Human Performance Wing, Airman Systems Directorate; Wright-Patterson Air Force Base, Ohio;
Dr. Kerianne Hobbs, ACT3 safe autonomy and space lead; Sensors Directorate; Wright-Patterson Air Force Base, Ohio;
Delia Jesaitis, communications lead action officer; Information Directorate; Rome, New York;
Dr. Jayde King, research psychologist; 711th Human Performance Wing, Airman Systems Directorate; Wright-Patterson Air Force Base, Ohio;
Brian "Mitch" Mitchell, STEM pipeline coordinator; Munitions Directorate; Eglin Air Force Base, Florida;
Maj. Michael Nayak, program manager; Defense Advanced Research Projects Agency; formerly with AFRL's Directed Energy Directorate; Maui, Hawaii;
Dr. Melissa Wilson, nurse scientist and civilian executive officer; 711th Human Performance Wing; Wright-Patterson Air Force Base, Ohio.
To view the event, please visit AFRL's YouTube Page.
More details can be found on the INSPIRE EVENT page as well.
About AFRL
The Air Force Research Laboratory (AFRL) is the primary scientific research and development center for the Department of the Air Force. AFRL plays an integral role in leading the discovery, development, and integration of affordable warfighting technologies for our air, space, and cyberspace force. With a workforce of more than 11,500 across nine technology areas and 40 other operations across the globe, AFRL provides a diverse portfolio of science and technology ranging from fundamental to advanced research and technology development. For more information, visit: www.afresearchlab.com.